Steinbach's Department Store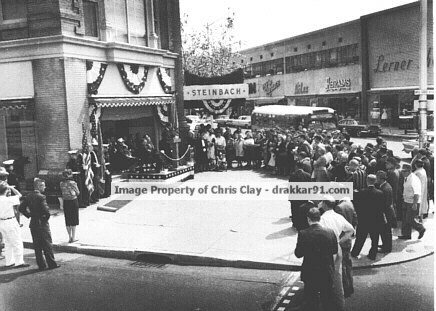 Once a staple in Asbury Park's downtown, the famous multi-level Steinbach's Department Store on Cookman Avenue. The store was located in the "heart of Downtown Asbury Park" and served as the pillar of the retail community. The store opened in 1912. It closed in 1979. When it closed it's downtown store, it continued to operate other locations, the closest at the (then) new Seaview Square Mall.
Two images grace this page on your journey. One appears to be from a "Grand Opening" or "Ribbon Cutting Ceremony" as Steinbach's secures it's presence in Asbury Park. My guess is that an original store existed when they opened in 1912 and that sometime (possibly in the 1940's) they opened in their final location on Cookman Avenue. In the background, to the right, you can also see the Lerner store among the many businesses that lined the street.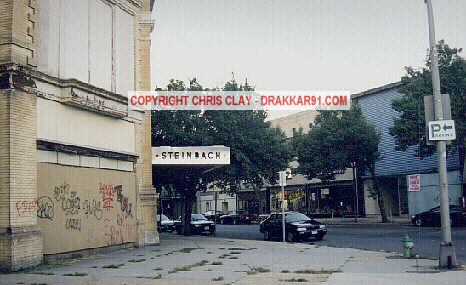 The second image from August 1997 shows the now boarded up Steinbach's store. Most stores along the street are vacant in the mid to late 90's.
Updates! In 2002, several businesses have opened in the downtown area (along and near Cookman Avenue), and the former Steinbach's building has been purchased. The structure, under renovation in June 2003, is still vacant as of June 2004. Word is the building is being converted to high-end condo's with retail on the street level.
I have searched the internet for more information about Steinbach's. Here's a mix of things I have found...