Home
Asbury Park History
Steinbach's
Albion Hotel
The Boardwalk
Empress Hotel
The Metropolitan Hotel
Historic Images
Troubled Times
Gay Asbury Park
Guest Images
Before I added the Copyright Notice across my images, many were stolen and appear on many sites developed after this one was created around 1998.
Please Visit
YESTERYEAR MEMORIES
My online store featuring
TIME MAGAZINES &
POSTCARDS of the 1900's.
The Famous Boardwalk
The once and still famous Asbury Park boardwalk along the Atlantic Ocean. The first scene below is from a postcard with the title "Boardwalk at First Avenue showing Casino, Asbury Park, NJ". The postcard is postmarked "Asbury Park, September 20, 1949" and was mailed to the Hough residence in Saint Paul, Minnesota. The second and third images below were photographed on the very same boardwalk, forty years later in 1989. The famous Casino is long since closed, the windows broken out. There are few bathers, the beach is closed/open? There are few strolling the once magnificent boardwalk.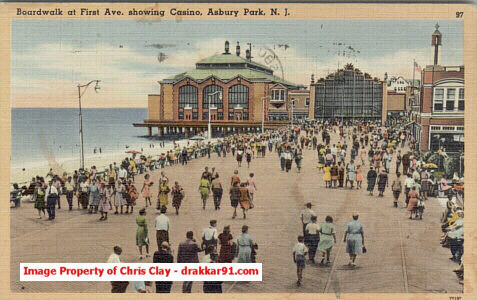 1989: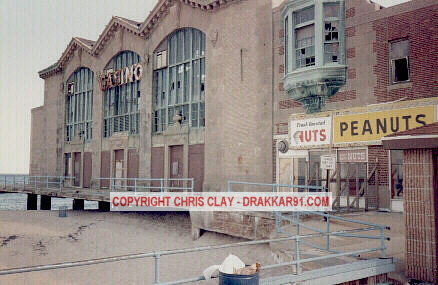 Late 1990's, still no signs of recovery for this historic and once marvelous beach resort along the Atlantic Ocean...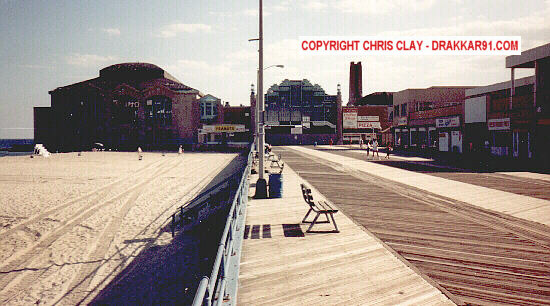 The Boardwalk, Sunday June 6, 2004, NJ Gay Pride: