Home
Asbury Park History
Steinbach's
Albion Hotel
The Boardwalk
Empress Hotel
The Metropolitan Hotel
Historic Images
Troubled Times
Gay Asbury Park
Guest Images
Before I added the Copyright Notice across my images, many were stolen and appear on many sites developed after this one was created around 1998.
Please Visit
YESTERYEAR MEMORIES
My online store featuring
TIME MAGAZINES &
POSTCARDS of the 1900's.
The Empress Hotel / Motel
The image to the right is from the 1970's visitor's guide advertising the hotel with 101 modern rooms - all complete with Television & Room Phones. Fully Air Conditioned - 24 Hour Elevator Service. Dining Room. Cocktail Lounge. Indoor and Outdoor Heated Swimming Pools - Surf Bathing. "A Picture Window and Patio with Each Room."

For years, closed and in serious disrepair, the hotel (photographed below in 1997 and then in 2004) is at Asbury & Ocean Avenues. In 1999, sections of the main level were renovated and the structure became home to Paradise Nightclub; work is being done to renovate the Motel section, and opening of some rooms is planned for August 2004. For more about the landmark, see "Gay Asbury Park". In the late 1960's, the guest list of the hotel include Judy Garland.
Photographed in 1997, Vacant: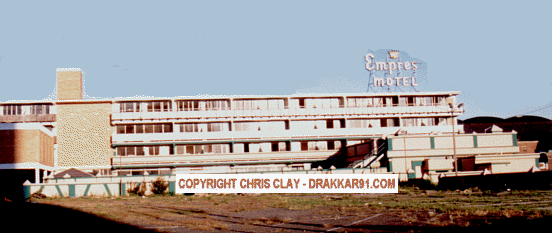 Looking east towards the motel, the ocean and boardwalk are on the opposite side of the building; photographed on June 6, 2004: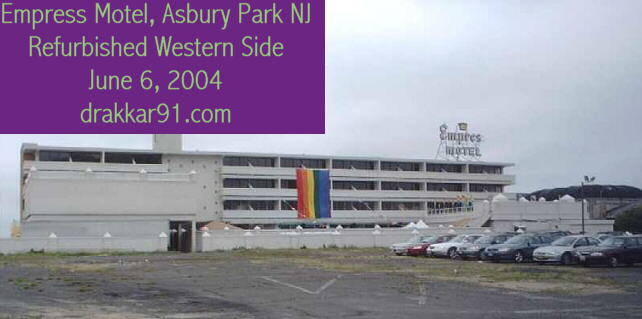 Showing renovations being done to the ocean side, photographed from the boardwalk just north and east of the motel, June 6, 2004: