My Life
Just Chris
Photo Galleries
My Dad (1927-2002)
My Cat Drakkar (1988-2001)
The Vermont Years
Chris' Vital Stats
My World
DJ / VJ Music & Video
Logan Lipton Fan Club
The Book I Wrote
Provincetown 2001
Guestbook Archives
The Soapbox
Disaster Relief
History
Asbury Park NJ
St. Paul & Minneapolis MN
Cape May NJ
Gay & Lesbian History
Vintage Postcards & Magazines
Everything Else
Affordable Web Design
YesterYear Memories
Links
Contact Chris



In the 1990's, I created a Nightclub Guide devoted to clubs catering to a gay and lesbian audience. After spending nearly 4 plus years in Vermont until 2004, and barely seeing the inside of a club the entire time, the original directory (hosted on my original Geocities site) become utterly outdated. After relocating to Northern New Jersey temporarily in 2004,
I turned to the Internet in my time of need - the need to find a gay dance club. What I found was a barrage of outdated web sites, with inaccurate information.
So I decided it was time to again create my own directory. Like the old one, this one will (for the most part) only list clubs I have actually gone to. You'll get information, even my personal reviews.

2014 Update! I recently added a new section to my website in memory of the GLBT nightclubs and bars that are no more ... check it out here!
Now for an important word - if you find my reviews seem a little harsh when it comes to music and light shows, it's because I have been a DJ/VJ myself. Enjoy - and by all means, if you find inaccurate information, simply use the contact me link and let me know! This list is specific to clubs of interest to the GLBT community. The reviews are based on my PERSONAL experiences having visited or patronized the particular establishment. In some cases, as a regular customers, in other cases, as a "tourist". The views expressed here are solely those of the writer.
Choose a State: DE - FL - MN - NE - NJ - OR - PA - VT and New England
Rehoboth Beach
Bar & Club: Renegade - According to online information (May 2004) from http://www.guidemag.com, this 20 year institution was DEMOLISHED to make way for condominiums (or something along those lines). Though I haven't visited Rehoboth since 1997, for years, this club was the ONLY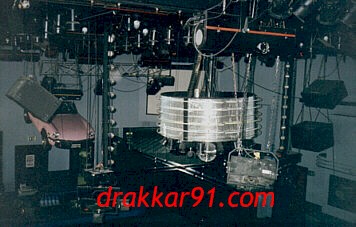 one at this popular gay resort. Other bars include the famous Blue Moon and Cloud 9. But the Renegade was a unique venue, and to me (and I'm sure many others), a great loss to this beach community. This was one of my favorite spots from 1991 to 1997. According to articles online, a new spot (Club AM) opened in 2003 at the old Ames Shopping Center. Further research brought me to a Washington Blade article ( http://www.washblade.com/2004/5-14/news/localnews/rehobith.cfm ), which indicated the Renegade closed in early 2003, and Club AM in the old AMES store operated for less then 2 years. Club AM has also closed, so for 2004, no mega dance club in Rehoboth. I feel, a major loss to the community. Consider the monster crowds found at Paradise in Asbury Park NJ - a town essentially without any other significant attractions (yet). A major nightclub (or 2) is important to a resort popular to gay men. This by no means indicates Rehoboth Beach will cease to exist, on the contrary, it has many other elements which will continue to attract visitors, including the Atlantic Ocean, boardwalk, fine dining and great shops. On this page: A rare photo I took inside the Renegade in 1995.
Florida, Ft Lauderdale
This is a GLBT playground. Visited on vacation in the summer of 2004 and am LONG OVERDUE for another visit! Favorites then included Georgie's Alibi (awesome video bar, the best), the Coliseum (a colossal club), the Boardwalk (hot dancers), and the Jackhammer (Sunday T-Dance). Plenty more great spots - including a delightful coffee shop in the Shoppes at Wilton Manor.
2010 Update! I returned in November 2008 and again in December of 2009. Ft Lauderdale remains one of the largest gay resorts. My friend and I stayed at the Worthington Guesthouse / Alcazar Resort - 2 vintage motels that have been remodeled and connected via walkways. There are many motels and resorts within 2 or 3 blocks of the ocean in Ft Lauderdale Beach. It's about a 10 minute drive ($14 by cab) from the popular Wilton Manors area where shops, bars and eateries abound. In Wilton Manors, Georgie's Alibi remains one of the most popular video bars, and they have a great menu too. The once famous large clubs like the Copa and Coliseum were gone or closed by my visit in 2008. The Copa apparently fell victim to hurricane damage, and opted to close. The Coliseum supposedly closed after one final New Years Eve party in 2007. In 2008, the JackHammer closed 'temporarily' according to their website and moved their infamous Sunday T-Dance to Boom (now Atomic Boom) in the Shoppes at Wilton Manors. On December 16, 2009, a new venue opened, The Manor, a large upscale space with dance club, piano bar and restaurant in one - just a block or two from the Alibi.
You'll still find a large collection of venues in Ft Lauderdale, mostly geared towards gay men- leather bars, male dancer bars, video bars, clubs and so forth. Plus plenty of lodging, lots of taxi's to get you where you want to go and of course, the beach and ocean. Almost all of the lodging for gay men is clothing optional, so choose according to your needs. My friend and I found the Worthington / Alcazar clean, friendly and with a great mix of guests.
2014 Update! I'm once again overdue for a visit! But Ft. Lauderdale remains a fun GLBT destination!
Saint Paul & Minneapolis
The Twin Cities has seen quite the changes in gay bar life between 2006 and now. In a 6-month period between late 2006 and early 2007, the area watched 3 venues close: Boom! in Minneapolis was sold off; Over The Rainbow in St Paul (10 years in business) went out of business and Trikkx (the only club in Downtown St Paul) lost a lease battle with the landlord.
By mid 2007, 2 new venues opened in St Paul - Camp, an upscale bar / cabaret and Rumours / Innuendo, a reincarnation of the once popular bar / club (in the 1990's) by the same names on Robert Street. In addition, St Paul also houses one of the longest running gay bars, the Town House, on University Avenue - a mix of dancing, karaoke, drag shows and a piano bar. All 3 venues offer specials, and dancing, and some sort of food service, though nothing spectacular. By late 2010, the 'new' Rumours / Innuendo called it quits, sighting concerns over Light rail construction. Based on how few people frequented the 2 bars, it's a hard sale that road construction was the only factor. Nonetheless, that leaves only Camp, which is no longer the hot new spot it was in 2007.
Across the river in Minneapolis, there are many gay bars. The Saloon at 9th and Hennepin remains the most popular dance club, now running 30+ years under gay ownership. It boasts a nice dance floor with great sound and lights, a video bar, and several other bars under one roof. A nice bar menu is offered and it's definitely where the boys will be found. Several 18+ nights are offered. In recent years, the management team changed, and new competition is forever challenging this old institution. Many say it needs a major facelift.
Down the avenue, you'll find the recently reopened Brass Rail, and partially remodeled Gay 90's - both straight owned now. The majority of the GLBT community stopped supporting the Gay 90's in the late 1990's. This writer recommends neither bar.
Off the beaten path, on Washington Avenue you'll find 3 bars under one roof - the Eagle, Bolt Video Bar and Underground dance club. The complex is famous for it's Friday 3 for 1 Happy Hours from 4 to 7, and Showtune Sundays starting at 5pm. The club is a neat space, but sparsely occupied by people. The Eagle, generally known for the Leather crowd feels more like a Martini lounge, and anyone is welcome. Dress codes of years past have all been dropped. Near Loring Park, the popular no-frills neighborhood bar, the 19 remains a staple in the gay community. New venues in 2009 included Lush, and Gladius, the latter of which I have heard nothing good. The upscale, attitude filled Jetset bar also operates downtown. Moving to downtown on 12/31/09 is Tickles, a piano & sports bar combination.
2011 Updates: Lush continues to improve and grow it's business. Almost certainly the freshest and cleanest of all the gay-owned bars in the Twin Cities. Tickles closed abruptly in early 2011, indeed a loss to the community. Gladius also closed it's doors, in 2010, about a year after it opened. Another new venue opened in St Paul, in the space once occupied by Over the Rainbow. It's is called Coale's, but I have not been there.
My suggestions: In St Paul, Camp for a cocktail, chat or a show. The Town House for the simple fact it is one of the longest operating bars. In Minneapolis, the Saloon, Lush and the Eagle/Bolt/Underground. All the web links above, I added free of charge.
2014 Update: Coale's in St Paul was short lived. The Underground section of the Bolt-Eagle complex closed the end of December 2013. A new venue opened in the former Tickle's location in downtown Minneapolis in November 2013. More info at: http://www.dinokos.com/ or on Facebook at: https://www.facebook.com/612DBZ
Omaha - Club: The Max
I visited Omaha for work-related training in October 2010. I arrived a night early, so I could check out Downtown Omaha, and it's only advertised gay club, The Max! Lo and behold in this mid-western city was one of the coolest clubs. A big space, with several bars and a great dance floor and club space. The lights and the music were 5 stars! I would definitely suggest a visit - I danced for hours! While it may not be the 'Best Dance Club in America' as it's web site suggests, it certainly takes the top spot for the Midwest, beating out every GLBT nightspot in Minnesota! Online at: www.themaxomaha.com
New Jersey
Asbury Park NJ - Club: PARADISE
| | | |
| --- | --- | --- |
| Music: 5 Stars | Light Show: 5 Stars | Atmosphere: 5 Stars |
| Location: Good, Shore Area | Parking: Ample | Reviewed: November 2002 |
| Last Visit / Confirmed: April 2011 | Visit Web Site | |
Click here to read my in-depth review.
There are 2 other smaller spots in Asbury Park called Georgies (810 Fifth Ave; 732-988-1220) and Anybody's (CLOSED - was at 108 St James Place). In the early 90's, the most happening place along the central NJ coast was a bar called "Down the Street" at 230 Cookman Avenue. The nightspot featured great music & lights. The younger crowd was friendly and energetic. Shows were common when I frequented the establishment. Sadly, after the opening of Paradise, the bar could no longer compete, and they closed their doors in early October of 1999. I last visited the club in 1993. Asbury Park is home to NEW JERSEY PRIDE (the 13th one being held on June 6, 2004)! Be sure to check out my History Collection featuring Asbury Park, "Then & Now". John, the owner of "Down the Street" has relocated to Ft. Lauderdale where he owns "The Cubby Hole": http://www.thecubbyhole.com/
2010 Update! Anybody's closed around 2005 (?) after losing an eminent domain battle with the city. Condo's now occupy the space. Paradise Nightclub, located within the vintage 1950's Empress Motel (fully remodeled in the 2000's) remains the spot to be.
Boonton NJ
Bar & Club & Restaurant: Switch Nightclub (Formerly Connexions) - 202 Myrtle Avenue
(New Ownership and New Name as of 2006 - Was renamed "Switch Nightclub")
| | | |
| --- | --- | --- |
| Music: 4 Stars | Light Show: 4 Stars | Atmosphere: 5 Stars |
| Location: Good, Small Town | Parking: Ample | Reviewed: Summer 2004 |
| Last Visit / Confirmed: Summer 2005 | No Web Site | |
The Friday night dance party is second to none with new dance and house music, a busy light show, pounding beats and hot men and boys (18 & up) moving it on the dance floor. A fresh nightclub, only 4 years young, with main bar, outdoor patio and dining. An oasis in the Northern Jersey countryside... (read detailed review)...
2014 Update - Switch is now closed.
River Edge NJ
Bar & Club: Feathers - Off Route 4
| | | |
| --- | --- | --- |
| Music: 4 Stars | Light Show: NA | Atmosphere: 3 Stars |
| Location: Good, City Suburb | Parking: Ample | Reviewed: May 14, 2004 |
| Last Visit / Confirmed: July 2004 | Visit Web Site | |
2010 Update! I am still on their email list, and the bar continues to operate despite the economic times.
Review from 2004: Considering there are very few places for gay people to go in northern NJ, Feathers at least offers a space for the community. Clearly a long-established spot, based on the regulars, this bar (and dance spot) fits the bill for those looking for music, dancing and men. I don't think I saw a lesbian in the place.

The spot is dated, and shows its age. However, it has a vast mix of men, from their 20's to their 50's, all shapes, size and styles; something for everyone. There are 2 levels, the lower level which features 2 bars, some video games, a cigarette vending machine, and 3 TV's playing pop music. There are several seats at the bar, and a few tables to the side.

A staircase (unmarked I might add) leads to a second floor which features 2 bars and the dance floor. Primitive bathrooms facilities on each level, though they are well lit and have automated flush valves on the urinals.

The highlight, or item which draws your attention first is the single giant size high-heel shoe hanging above the bar in the dance area with twinkle lights. It spins too. The music was good, high-energy, lots of beats, but seemed to lack general appeal. Not a dancer on the floor til after midnight, and they close at 2am. A regular who introudced himself to me said this was a slow Friday, but I thought it was a good crowd. Hanging high above the dance floor were many effects lighting - sadly, the DJ (John Rizzo I believe, though he is not listed for Friday nights) used only 4 roboscans (2 of which kept going out), and some strobes. The light show - ooops, there was none. If you are going to invest in all the equipment, use it. And it's time to lose some of the mini mirror balls. If the DJ was filling in for someone that called off, he may not have been so happy to be there.

The web site promoted Go-Go boys - there were none, but they did have the $100 drawing around 1am.

Overall, a nice spot, and without any competition that can survive more then a year, likely the one that will remain. If I visit a second time, we'll see how it compares.
Oregon - Portland
Check out my Portland Oregon guide to gay bars and clubs, completed August 2004.
New Hope, PA
Club / Bar: The Cartwheel
APRIL 2005: The club closed following to a fire, and never reopened --- read more here
| | | |
| --- | --- | --- |
| Music: 4 Stars | Light Show: 4 Stars | Atmosphere: 4 Stars |
| Location: Very Good, Country | Parking: Ample | Reviewed: June 11 & 12, 2004 |
| Confirmed: June 2004 | No Web Site | |
This large nightspot ("complex" if you will) has been in existence at least since the 1980's! It continues to be a popular oasis in Bucks County PA, a popular destination for visitors from Philadelphia and NJ. Having not been there since the mid 1990's, I was excited to again be visiting one of my favorite spots of years back (I visited often from 1988 to 1993 while living in the region). With the exception of their Friday night music (80's electro clash?), everything was still great! The Saturday night dance party was fabulous, a packed dance floor, great music, hot dancers, and decent light show (though a little awkward because of the height of the lights).
The club features a main dance floor with 2 bars, a video lounge (though on both nights the music from the dance floor was piped in), so what's the point of the videos? There is a pool table, some video games, a large outdoor deck with bar, a quaint piano bar upstairs, and the club features full-service dining. Unlike the Raven (see below), the Cartwheel seems to have a challenge establishing a large following for dinner. A new Chef was recently employed.
Definitely worth the visit on a Saturday night. From AD's in PGN, one might assume the bar is open Thursday through Monday, with DJ's spinning Thursday through Sunday nights, and a drag show on Monday (call to confirm all of this of you go any night but on the weekend). Go-go dancers seem to be a regular feature as well. I would suggest they drop the bizarre music on Friday - it's not drawing a crowd, and there were but a few people on the dance floor, sometimes empty. How about 80's music we recognize? But that was my only complaint. The staff is friendly, though price differences on the same drink (a Corona) in 2 bars raises eyebrows - is it $4 or $5? The crowd is very friendly, and I found it easy to talk with people (other then those I with)! Keep up the good work.
Club / Bar: The Raven Resort
| | | |
| --- | --- | --- |
| Music: 4 Stars | Light Show: N/A | Atmosphere: 4 Stars |
| Location: Very Good, Country | Parking: Tight | Reviewed: June 11 & 12, 2004 |
| Last Visit / Confirmed: September 2006 | Visit Web Site | |
A long-established bar and clientele - full review coming soon! Great spot for dinner, drinks, conversation, the pool ... go visit!
Vermont & New England
For clubs in and around New England, visit: http://www.gaynewengland.net/
There are NO known operating GLBT bars anywhere in Vermont. Sad, considering this was the FIRST state to bring us Civil Unions.
Brattleboro (Dummerston) VT
Club / Bar: The Rainbow Lounge (802) 254-9830
APRIL 2005: This establishment is CLOSED.
| | | |
| --- | --- | --- |
| Location: Very Good, Rural | Parking: Ample | Reviewed: May 2004 |
| Confirmed: May 2004 | | |
This small night spot has survived for years, and was most recently known as the Rainbow Cattle Company - a name change was good indeed. Nothing else, unfortunately, changed with the name, although they did add a basic pub menu on weekends. The bar is open Wednesday to Sunday - call to confirm before you make the drive! A DJ plays music on Friday and Saturday evenings. Occasional shows and special theme events. The ONLY spot in all of central and southern Vermont, it is a shame they can't do better business. As of May 2004, the place was for sale.
Visitors to Vermont may have also heard of the Playhouse Pub - a fun nightspot in Chester Vermont. I opened it myself within my Inn and ran it from November of 2003 through April of 2004. Upon selling the Inn in May of 2004, the Playhouse Pub ceased operations.
There is one other nightspot in Burlington Vermont called Pearls: http://www.135pearl.com/. It is also closed.