Hosted by drakkar91.com
Bar Guides & Maps (Various Locations & Publications)
Specific Nightspots:
Down The Street, Asbury Park NJ
Entertainers Club, Atlantic City NJ
New Bar / Rod / Hotel Washington, Madison WI
Over The Rainbow (Jr. & Sr.), St Paul MN
Renegade (Club & Resort), Rehoboth Beach DE
Rumours, St Paul MN (Later Named Trikkx)
Trikkx, St Paul MN (1997 to 2007)


Harrisburg - the Pennsylvania State Capitol, was my home from from late 1989 to early 1993.

The maps page features listings from 1988 and 1994, neither list the 236 Club, but both list the long running Stallions Nightclub at 706 N. 3rd Street (still operating today) and the now gone Neptune's Lounge and Strawberry Cafe.

A side note to the survivors, most of us 80's and 90's club kids can remember going out, often to dance 7 nights of the week. Some of the hottest clubs of today operate their dance floors only on Saturday (Stallion, Harrisburg and Paradise Asbury Park NJ). This is certainly a testament to the declining bar / club business.

The 236 was likely a short lived club. I recall the air conditioning system consisted of wall type units, which means it got pretty hot on the dance floor. I visited on a few occasions during my residency in Harrisburg.

236 Club Harrisburg Ad - from 1990 PGN issue Aug 24 to 30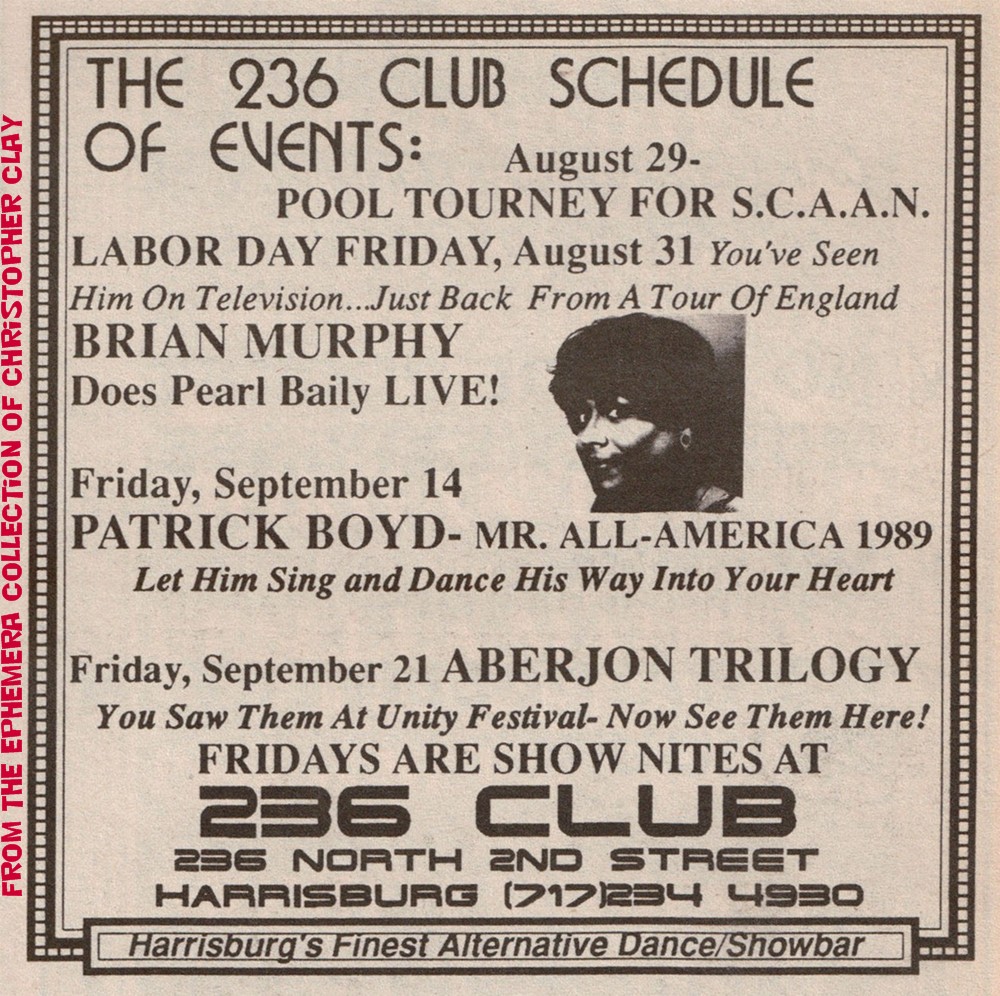 Have images, photo's, ads you wish to share? I'll be happy to include them of your favorite space! Send via email.