Hosted by drakkar91.com
Bar Guides & Maps (Various Locations & Publications)
Specific Nightspots:
Down The Street, Asbury Park NJ
Entertainers Club, Atlantic City NJ
New Bar / Rod / Hotel Washington, Madison WI
Over The Rainbow (Jr. & Sr.), St Paul MN
Renegade (Club & Resort), Rehoboth Beach DE
Rumours, St Paul MN (Later Named Trikkx)
Trikkx, St Paul MN (1997 to 2007)


This one is near and dear to my heart, since I worked at the venue from 1995 to 2000 and again from 2004 until closing in 2007. I could (and should) write a book. This ad from 1994 is from around the time I first moved to Minnesota, and could walk a few blocks from my apartment to the Cheers-like venue. Housed in the giant Rossmor warehouse, at 490 North Robert Street, a big dance floor (with pounding bass), an open bar, a friendly staff / patrons and delicious (unhealthy) bar food made this one of the "institutions" in gay life. Opened as Rumours in 1986 by Molly and Doris, the bar remained gay owned and operated until it closed. Under the same owners, it transformed itself into Trikkx in 1997. The owners sold it in 2006, and the new owner fought a long and costly battle with the landlord before losing. The space closed permanently in January 2007. See more on the Trikkx page.

Here's a video of a 1994 benefit show held at Rumours - http://www.youtube.com/watch?v=b4HTrpz8b3o

After Trikkx closed, Sean Fetterman opened the "new" Rumours & Innuendo with the blessing of the original owners, Molly & Doris. The venue operated on 213 4th Street E, and unlike the originals, both venues were combined in one space. Light rail construction in front of the bar helped seal it's fate, and the bars closed in October 2010 after a 3 year run.

In the space on Robert Street, once occupied by Rumours / Trikkx and in the late 70's / early 80's the Grand Finale, Camp Bar operates. No more will patrons find a nightclub for dancing the night away. Instead, Camp survives by having transformed the big club space into a theater venue. The clientele is quite mixed.

Top ad - Rumours St Paul ad from GAZE Magazine July 22, 1994
Bottom ad - Rumours last ad from Lavender Magazine, October 24, 1997 (as the club closed for a 2 week transformation to Trikkx).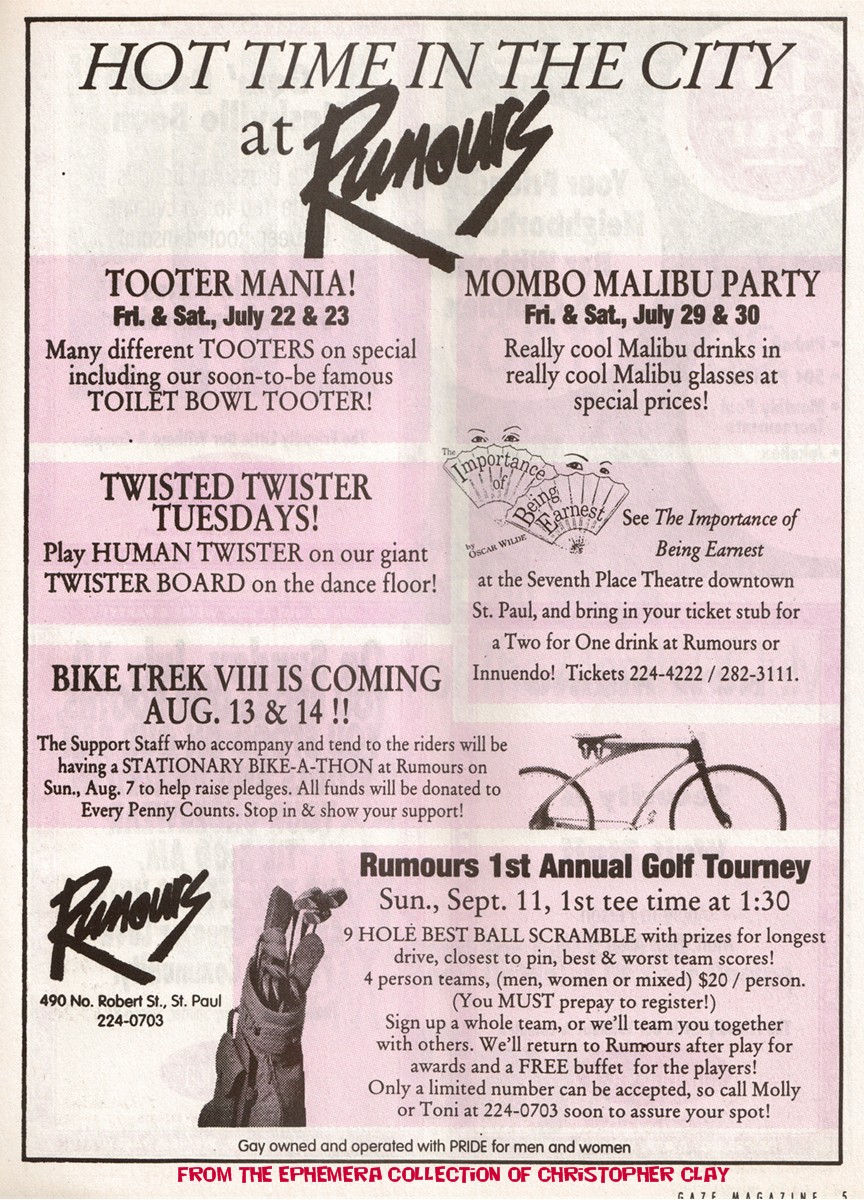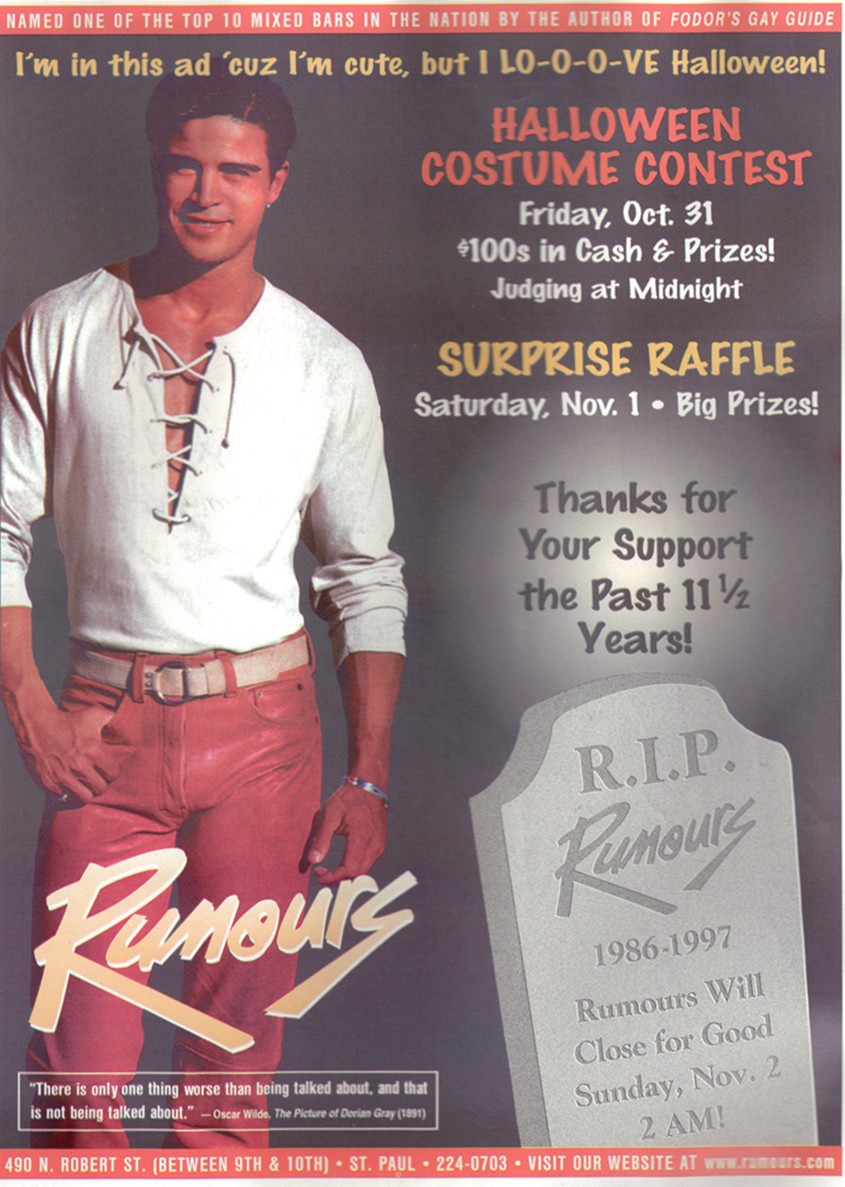 Have images, photo's, ads you wish to share? I'll be happy to include them of your favorite space! Send via email.