Spotlight on Logan Michael Lipton
(The FIRST 'Unofficial' Fan Club Site)
University of Michigan 1999 to 2003

Weston Playhouse Performer 2001 to 2003

New York City Theatrical Debut, Fall 2003

Philadelphia Debut, March 2004

DVD Movie Release, May 2004

Wicked Tour, Begins March 2005

Wicked at the Gershwin, August '06 to Present

View Detailed TimeLine
Welcome to the first original unofficial web page designed and dedicated to one of the rising stars in the theatre.
About My Connection to Logan...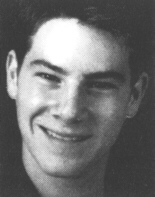 I first saw Logan perform in the small Vermont town of Weston in "The Pirates of Penzance". Be it his smile, his charm, his wit or his delight, I was hooked from the start. For 3 seasons (2001 to 2003), I would have the opportunity to watch Logan perform (and grow his career) as an energetic and enthusiastic performer at the Weston Playhouse in Vermont. His credits included "The Pirates of Penzance", "Gypsy", "An Ideal Husband" and "Hello Dolly!" Having seen several performances, and many a cabaret, it was always a pleasure to enjoy the wonderful talents of this new young (and adorable) talent.

To further enjoy Logan's acting ability - and see him in some more humorous vignettes - I was fortunate to enjoy the ACT IV Cabaret on several occasions between 2001 and 2003. Here the cast and crew of the theatre performed a nightly cabaret and review full of music, song, acting (of course) with plenty of humor. Logan's original musical performance of "(I'd Rather Be) Sailing" should have been recorded on tape for the world to enjoy! I think the song whenever I am having bad day, and would, well, rather be sailing.
During his final season at Weston, and my final summer in Vermont before selling my Inn, I had the wonderful opportunity to meet Logan in person after the last show of the 2003 season. In August, I hosted a Cast Party for the entire Weston Playhouse cast and crew at the Inn I owned in Vermont. Other cast players I would meet included Dominic Roberts, Olivia Goode and Byron St. Cyr. Many cast members enjoyed group tours of the Inn - but the tour I'll remember best was Logan's - since it was only he and I. Memorable since he actually got to meet my cats! The less memorable event of the evening would be a photo taken of Logan and I that did not develop! But it will be forever vivid in my memory.
After Logan departed Vermont that Fall, I went back to the duties of running a busy Inn during the Fall and Winter seasons. After selling the Inn in 2004, I began searching the Internet to see what path Logan followed. Presented below is a brief capsule, timeline if you will, or Logan's success following his seasons in Weston.

Below is a brief capsule of Logan's history, one destined for glory!
Logan's TimeLine: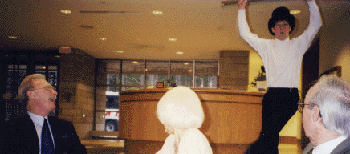 1999 - Logan enters his Freshman year at the University of Michigan. In the image to the right, Logan performs an excerpt from "You're a Good Man Charlie Brown" for the Road Scholars and guests at the Dennos Museum in Traverse City. During his time at the University, he co-founded the University of Michigan theatre company, The Project.
2000 - Logan appears as Rufe in The Lost Treasure of Sawtooth Island, alongside Ernest Borgnine, in the Picaroon Film Associates, Inc. production, directed by Richard Brauer (visit this site where you can download a film trailer).
June to August, 2001 - In his debut at the award-winning Vermont summer theatre, Logan plays a Pirate in the Weston Playhouse production of Gilbert and Sullivan's "The Pirates of Penzance". Logan would go on to appear in the first 4 productions of the summer 2001 season, running from June through August. During the Oscar Wilde play "An Ideal Husband", Logan played Mr. Trafford, Sir Robertís Secretary. He also played Farm Boy Angie in the production of "Gypsy", and appeared in the play "Floyd Collins" in several roles.
Summer 2002 - Returning for his second year to the Weston Playhouse, Logan performed as Will Parker in Rodger's and Hammerstein's "Oklahoma" which ran from August 8 to 24, 2002.
Spring 2003 - Logan graduates from the University of Michigan. During his time in the University of Michigan's Musical Theatre Program, his credits included Merrily We Roll Along, Assassins, Of Thee I Sing, The Visit, Julius Caesar and Casino Paradise.
Summer 2003 - For his third season in Weston, he performed flawlessly as "Barnaby" in "Hello, Dolly!", and performed in various roles in the Tony Award winning musical of breathtaking scope "Ragtime".
Cupid & Psyche - 9/24/03 to 10/26/03

Logan made his New York City Debut as Mercury, alongside Barrett Foa as Cupid, Deborah Lew as Psyche and Laura Marie Duncan as Venus.

Logan made a name for himself in the off-broadway production of Cupid & Psyche. The performance at the John Houseman Studio Theater (452 West 42nd Street, New York, NY 10036; 212-868-4444).

"Cupid and Psyche is a mythical musical about a boy, a girl and his mother. This new musical tells the comic tale of a forbidden romance and the thwarted efforts of Venus, the goddess of love, as she tries to come between her son Cupid and the bright and beautiful mortal Psyche."

Review: "The show has a fantastic four-person cast [that's] instrumental in making Cupid and Psyche the crowd-pleaser that it definitely is..." --THEATERMANIA

More Online: http://www.theatermania.com/content/news.cfm?int_news_id=3922
January 12, 2004 - But I'm a Cheerleader (Reading): The by-invitation-only event was held at Primary Stages on West 45th Street, NY NY. Logan was one of the readers for this event. The musical, based on the 1999 Lions Gate cult film by Jamie Babbit and Brian Wayne Peterson, centers around a teenage girl who is sent to a "sexual redirection" camp after she tells her parents that she is a lesbian. (Source: http://www.broadwaytovegas.com/January4,2004.html). Other Key Players Included: Laura Bell Bundy and Nancy Opel Part.
More Online: http://www.playbill.com/news/article/83389.html
March 6 to 28, 2004 (I believe extended through April 4): Logan made his Philadelphia debut as Morris in "The Great Ostrovsky" at the Prince Music Theatre ( http://www.princemusictheater.org/ ). Desmond Ryan of the Philadelphia Inquirer in a review writes: "...positively overflows with Jewish passion, history and humor." ( http://www.philly.com/ ).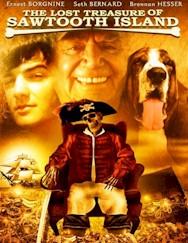 May 25, 2004: The Lost Treasure of Sawtooth Island is released on DVD.
October / November 2004: Internet site www.nytheatre.com reports that Logan performed in the off-Broadway dramatic production of JUST ASSASSINS by Albert Camus at the (Under) St. Marks Theater, 94 St. Marks Place New York NY. The show ran from Nov 3 to Nov 21, 2004. Theater: 212-868-4444.
Logan performs as the Eggman in: NEW JERSEY TRAPEZOID (Book, Music and Lyrics by Tom Kleh) at the Theater Three (3rd Floor), 311 W. 43rd St., (Between 8th & 9th Aves) NY, NY. The off-Broadway Comedy ran Oct 28 to Nov 14, 2004. Review: http://www.nytheatre.com/nytheatre/njtrap1007.htm
January 2005: According to Playbill.com, Logan was scheduled to play "Boq" in the upcoming tour of Wicked, (opened) March 8, 2005 at the Canon Theater in Toronto (read more Theater info here and here).
August / September 2005: Logan played Boq in the San Francisco showing of "Wicked" at the Orpheum Theater.
September 2005 - Largely based on his performances in Wicked, Logan quickly becomes the idol of many a theatergoer.

August 2006 - Logan returned to New York City, in his role as Boq in Wicked at the Gershwin on 51st Street. Info @:
http://www.wickedthemusical.com/ and http://gershwintheatre.com/

In addition, Logan takes control of the domain name, www.loganlipton.com, and prepares to develop his own site. I look forward to seeing the progress and hopefully staying in contact with him again - if for no other reason then to get a chance at another photo - and treat him to dinner as promised in 2003, days before he departed from Vermont for New York City.