Written around 2005/2006, this would be a solid 8 years old. That said, might be easier to connect with me via Facebook.
And what I said some 8 years ago (some of which is true, like the single part), but you'll find me on the New Jersey Shore as of Spring 2014.
Now that I have the stigma of being single again, I find myself answering some interesting, provocative, strange, mundane and sometimes intriguing questions (this is like one of those emails your best friend sends you)...
Summary: Youthful-minded guy seeks others in their 20's or 30's for chat, friendship, eventually more! Having thought I found Mr. Right, I am truly hoping he is still out there somewhere. I love the beach (salt air, the sand and sea), nightlife (dancing, dance clubs, DJing), fine dining by candlelight, casual dining on the pool deck, frozen cocktails, moonlight in Vermont (where I previously lived), walking hand in hand under the stars, my 2 cats, collecting postcards, history, dance music and the standards of Jazz like Ella and Billie, Linda Eder, live theater, downtown (wherever that may be), shopping, cute (and younger) guys, preferably without attitude, falling in love and finding my soulmate.
Image Below: From the DJ Booth at Trikkx, June 30 2006 (I am in the Center)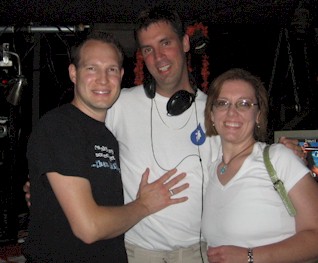 Born In: New Jersey, The Jersey Shore!
Height: 6'4" - Weight: Proportional to Height!
Marital Status: Decline to Answer! Ha! That's Single, or GWM or Looking...
Hair: Brown, Dark I Think, Usually Highlighted - Eyes: Brown
Live In: Minnesota's Capital City (for the 3rd Time) - Now New Jersey as of April 2014!
Pets: 2 Cats, Destiny & Divinity (They Turn 11 in 2009)
Sign: Libra (October), so I am always trying to find balance...
Allergies: Take Generic Version of Claritin (Update: Quit it in November 2007)
Drink: Coffee, OJ, Milk, Baileys, Jacobs Creek Chardonnay, Kahlua & Water (The latter 2 not together)
Food: Cereal, Salads, Shrimp (Any Way), Ice Cream (Preferably with Peanut Butter)
TV: Everybody Loves Raymond, Lucille Ball, Simpsons, Queer As Folk, Mary Tyler Moore
TV as a Kid: Gilligan's Island, The Brady Bunch, Flintstones
Movies: Torch Song Trilogy, The Sum of Us, Beautiful Thing, Philadelphia, Anything that Makes me Laugh & Cry
Smoke: No, but think the Government should stay out of regulating it - business owners and consumers should handle this one.
Drugs: Never
Vices: Coffee, Guys Younger Then Me ... "You're in what year at college?"
Music: Dance/Electronica, Disco, Easy Listening, Jazz, Pop/Top 40, Showtunes, Soul/R&B, Soundtracks (Diverse!)
Going Out: Amusement Parks, Antique Stores, Bars/Nightclubs, Beach, Bookstores, Coffee Houses, Comedy, Concerts (like Cher or the Gay Mens Chorus), Live Theater (Especially Summer Stock), Movies (Occasional), Parks, Restaurants
Activities: Dancing, Board Games, Dining Out, "Lite" Entertaining, Hanging Out with Friends, Intimate Conversations, Listening to/Playing Music, People Watching, Taking Long Walks / Leisurely Hikes, Traveling / Weekend Trips, Movies/TV (At Home)
About Past Relationships: Stay true to yourself and your own needs, and in doing so, you will serve the needs of your partner as well.
Vacation: Rehoboth Beach (Delaware), Cape Cod, Disney World, Any Shore Resort
Places I Have Lived: Pennsylvania, Vermont, NJ & MN (Plus RI and DE while in College)
Places I Have Been: Montreal Canada, The Bahamas, and in the USA: Portland Oregon, San Francisco, Las Vegas, Ft. Lauderdale, Orlando, All Over the East Coast & New England
Cooking: No, not really.
Gardening: Nope, well, except hanging baskets, preferably purple.
Personality Traits: Argumentative, Artistic, Conservative, Easygoing, Flirtatious, Friendly/Kind, High, Medium & Low Maintenance, Sensitive, Outgoing, Practical, Romantic, Serious/Responsible, Talkative
And The Things in Life I will Treasure Forever:
Family & Friends & Loved Ones in Life

The Years in Vermont, Meeting So Many Wonderful People, including my "friends" from Lithuania

The Opportunity I Now Have...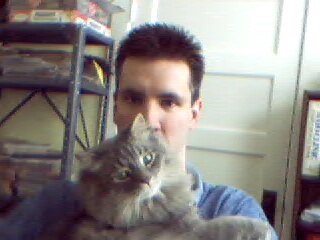 About the one I'm interested in: He will be kind, considerate, and sweet. He would enjoy an evening at home with a movie or TV, or by the fire with candles and a bottle of wine. He would also enjoy the bright lights and big city - a night on the town with dinner, theater or a fun nightclub for dancing. He would (hopefully) enjoy cooking (and/or being taken out for dinner). He would enjoy the city, and the country, but most importantly the ocean! Someday we would live on (or real close to) the ocean. He need not be rich, nor in debt for the rest of his life. I enjoy material things as much as the next guy, but do not place emphasis on them when meeting someone. His looks/appearance would be varied: could be tall, short, slim, average, short hair, long hair, I don't have one type! Looks are important, but not much without the ability to hold a conversation about more then 1 topic.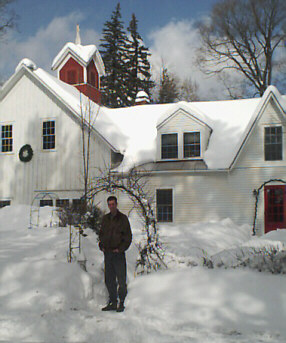 Me in Vermont, Outside the Inn, Probably After Shoveling Snow
Last Updated, Summer/Fall 2006