"My Cats"
Felix

Christmas 2010

With His Adopted Brother Felix, Age 4

Read About Destiny's Battle with Cancer
Divinity
(Sister to Destiny)
May 1998 to March 9, 2011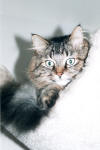 Drakkar
(1988 to April 26, 2001)

See More Family Pet Photo's Here
Hosted by drakkar91.com

My Life
Just Chris
Photo Galleries
My Dad (1927-2002)
My Cat Drakkar (1988-2001)
The Vermont Years

My World
DJ / VJ Music & Video
The Book I Wrote
Disaster Relief
Contact Chris
History
Asbury Park NJ
St. Paul & Minneapolis MN
Cape May NJ
Vintage Postcards & Magazines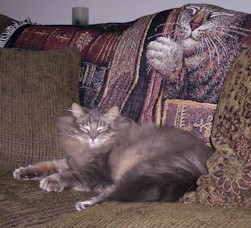 My buddy, and one of those rare cats that loved every person he met! My neighbor of many years was also the cat caretaker during my vacations to visit family, or on work trips. She nicknamed Destiny "50 Shades of Gray".
He and his sister Divinity entered my life at about 6 weeks. Wisconsin farm cats, they would have otherwise faced a life in the wild, and likely a much shorter one. Instead, the two siblings would make home in St Paul, and for about 4 years in Vermont, where they were 2 of the "Inn Cats".
While his sister clung close to her Daddy, Destiny would take love (and candy) from a stranger. Well, not really candy, but cream for sure! He loved anything dairy - yogurt, 1/2 and 1/2, cereal milk, pudding and ice cream.
After his sister passed in 2011, in 2012, I adopted Felix from a no-kill shelter. At the age of 3, Felix had lived his entire life at the shelter. He would find not only his forever home, but a dear cat friend in Destiny. The two bonded beyond anyone's wildest imagination. They would have a charming year and a half together. I am so fortunate to have had nearly 16 years of unconditional love from Destiny, who would share some his cat insight on life with Felix.
Destiny started showing signs of illness in October 2013, and would fight courageously for many months to follow. More details of his story can be found here. With his Dad at his side, and the compassionate staff at Century Animal Clinic, Destiny passed over Rainbow Bridge on January 24, 2014. His spirit is here with us, as he watches over his little buddy Felix.
With Love to My Little Fluffy Buddy,
Destiny ~ May 1998 to January 24, 2014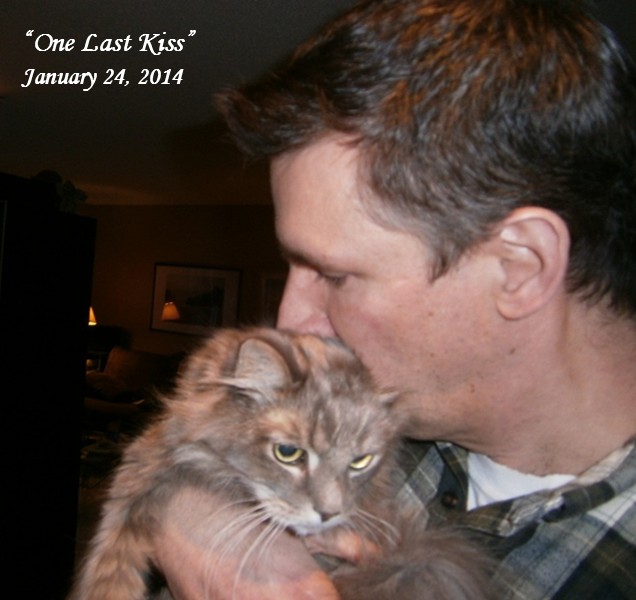 Destiny & Felix