"Drakkar's Page"
September 1988 to April 26, 2001
Age 12 1/2
Drakkar became part of my world when he was rescued from a Humane Society Shelter in Harrisburg Pennsylvania on September 3, 1991. From that day forward he brought joy to my life and to everyone's life he touched. Over the years, we made our homes in Harrisburg Pennsylvania, Cherry Hill NJ, Saint Paul MN, even Washington DC before making our last move to Chester VT. He was a great traveling companion having trekked by car across the US a few times during his "9 lives". He had the honor of several "Aunts" and "Uncles" - that is anyone who was entrusted with caring for him during vacations or business away from home. He had an Uncle David, Aunt Michele, Aunt Amy, Aunt Jeri, Aunt Sue and a Grandpa & Grandma. In July of 1998, he himself became an Uncle to two younger siblings - Destiny & Divinty. The 3 would soon become best of cat friends!
Drakkar was fortunate to become part of our dream of buying an inn. In his 6 months here, he greeted many a guest with his charming smile and kind soul. The week of April 23, 2001 he had the opportunity to get one last belly rub from some ladies who found their way to us while traveling from Maine.
I lost Drakkar unexpectedly on April 26. He was loved and will always be loved for the joy he brought to our hearts.
May God bless and keep you, my "Pookie Kitty".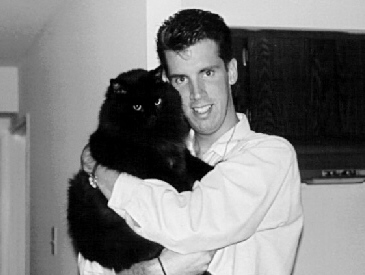 Composed in 2001